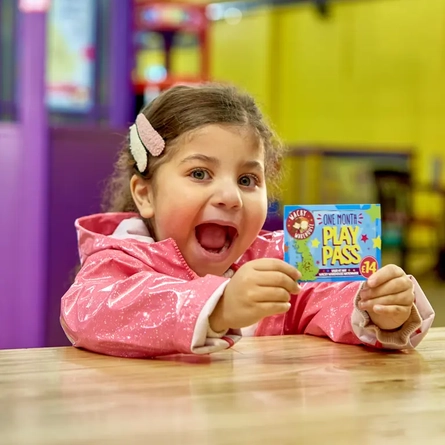 Save on play with our play passes at Wacky Warehouse,  Romans Rest, Gateford!
Whether you're looking to give the gift of endless play or simply want to take advantage of a great deal, our Wacky Warehouse Play Passes provide your little ones with unlimited daily play.
Join us as much as you want throughout the duration of your pass and sit back and relax with some food and drink while the kids burn off energy!
So go ahead and arrange that lunch date, after school get together or weekend family fun.
What happens if I lose my Play Pass?

Please keep your pass safe as we are unable to issue another pass.

Can I use the same pass for multiple children?

No, each pass is for one named child, passes are not transferable between different children.

Only our Childminder Play Passes can be used for multiple children, but these are only available to registered childminders.

Can I play more than once a day?

No, our passes entitle children to one 90-minute play session per day for the duration of the pass.

Can I still redeem the 10% off food and drink if I do not have my pass present?

No, a valid play pass must be present at the time of purchase to redeem this discount.

Can I buy a play pass as a gift?

Yes, you will simply need to specify the name of the child you are gifting the pass to as this will be written on the play pass.

Can I choose the start date of the play pass?

Yes, you can specify your desired start date on the pass when purchasing, except in the instance of special edition play pass offers in which a set date has been indicated.

PLAY RULES


1. Although the play area is monitored by our team, children must be supervised by a parent or guardian at all times.

2. Minimum of 1 adult for every 5 children.

3. All children using the play area must be under the age of 12 and below 4ft 9in (1.45m) in height.

4. No food or drink permitted in the play equipment.

5. Only food and drink purchased onsite may be consumed in this venue (with the exception of baby food and formula).

6. Children must remove their shoes and wear socks before entering the play equipment.

7. No glassware should be brought into the Wacky. We can provide plastic cups for you.

8. Sharp objects such as jewellery or sunglasses must be removed before entering the play equipment.

9. It is advisable for children to wear trousers and long-sleeved tops that can be tucked in.

10. If your child is poorly, please save your play for another day, and get well soon!

11. All accidents or injuries must be reported to a member of our team.

12. Adults are only permitted within the play equipment during Tots Club sessions or when visiting with children who may require additional assistance.*

*If your child requires assistance whilst making use of the great facilities on offer, please kindly notify a team member upon arrival so we can do our best to assist you and make your visit as enjoyable as possible.





PLAY PASSES TERMS AND CONDITIONS


1. Children must be under 12 and below 4ft 9in (1.45m) in order to play.

2. 1 month play pass cost £14 per child. 25% discount will be applied to the total cost where additional play passes have been purchased for up to 4 additional children from the same household when purchased as part of the same transaction.

3. 6 month play passes cost £65 per child. 25% off additional pass offer is not available for 6 month Play Passes.

4. Each play pass entitles the child/children to one play session per day for the duration of pass validity.

5. Registered childminders can purchase play passes for up to 4 children for £30. Proof of registration must be presented. 25% off additional pass offer is not available for Childminder's Play Passes.

6. Play pass holders are entitled to 10% off food and drink in any Wacky Warehouse and associated Pub restaurant. Play passes must be presented when placing your order. Discount is not valid against parties and cannot be used in conjunction with another offer.

7. Play sessions may be limited to 90 minutes during busy periods.

8. Play passes are purchased per child and cannot be transferred.

9. Play passes can only be used at participating venues and must be presented before each play session.

10. You must look after your play pass as they cannot be replaced if lost, stolen or damaged. Copied, forwarded or damaged play passes will not be accepted.

11. Offer cannot be combined with any other offer, daily deal, promotion or discount including Greene King team member and friends & family discounts.

12. We reserve the right to withdraw or amend the offer at any time.

13. These terms are governed by English law and the exclusive jurisdiction of the English courts.

14. Promoter: Wacky Warehouse, Greene King Brewing & Retailing Ltd, Sunrise House, Ninth Avenue, Burton upon Trent, DE14 3JZ.





COFFEE & CAKE OFFER TERMS AND CONDITIONS

1. Illustrations are for guidance only.

2. Offer entitles customer to one regular hot drink and one slice of cake, muffin or traybake for £2.99 from the range available in the Wacky Warehouse.

3. Cake selection is subject to availability, please ask for today's choice.

4. Products and offers are subject to availability at the price point advertised.

5. We reserve the right to amend or withdraw this offer at any time. Manager's decision is final.

6. Promoter: Wacky Warehouse, Greene King Brewing and Retailing Ltd, Sunrise House, Ninth Avenue, Burton upon Trent, Staffordshire, DE14 3JZ

PARTIES TERMS AND CONDITIONS



1. Definitions

1.1. "us" is Greene King Brewing and Retailing Limited of Westgate Brewery, Bury St Edmunds, Suffolk, IP33 1QT.

1.2. "You" or the "Organiser" means the person who makes the Party booking and enters into this contract.

1.3. "Pub" is the premises which is part of the Greene King group and will be holding the Party.

1.4. "Party" is the event that you book at the Pub, including food and drink charges and Wacky Warehouse charges associated with the event.

1.5. "Wacky Warehouse" is the play area at the Pub.

1.6. "Attendees" means all those children and adults who attend a Party.



2. BASIS OF CONTRACT

2.1. These Conditions apply to the booking to the exclusion of any other terms that the Organiser seeks to impose or incorporate, or which are implied by trade, custom, practice or course of dealing.

2.2. A request to book a Party constitutes an offer by the Organiser which shall only be deemed to be accepted when Greene King issues its written acceptance of the request, at which point a contract shall come into existence

2.3. The contract constitutes the entire agreement between the parties. The Organiser acknowledges that it has not relied on any statement, promise or representation made or given by us or on behalf of the Pub which is not set out in the contract.

2.4. Any Party booking request made by someone reasonably purporting to represent the Organiser shall be binding on that Organiser.



3. PARTY DETAILS

3.1. The Party will last for 90 minutes and include play in the Wacky Warehouse for Attendees who are aged under 12 and who are under 4ft 9 inches (1.45 metres) tall. Attendees over the age and or height restriction are not permitted within the Wacky Warehouse play frame. Additional options depend on the package chosen.

3.2. The Attendees must include a minimum of 8 children. Some Pubs and Party packages may have a maximum number so the Organiser must check that they do not exceed the maximum.

3.3. The Wacky Warehouse is open to members of the public during the Party. At busy times, Pub staff may ask parents/legal guardians who are surplus to the supervision requirements to wait in the Pub restaurant area.



4. FACE PAINTING AND TEMPORARY TATTOOS

4.1. Face painting and Temporary tattoos are only available for Attendees aged three and over with the permission of their parent or legal guardian.

4.2. We reserve the right to instruct Party hosts to refuse to face paint or apply tattoos to any child who appears unwell or who has a medical condition such as, but not limited to, a cold sore, psoriasis, open wounds, broken skin, conjunctivitis or other eye infections, infected skin, headlice etc. which may be exacerbated by the application of face paints or a temporary tattoo.

4.3. Use of both face paints and temporary tattoos should cease immediately if an allergic reaction occurs.

4.4. Face paints are water-based and are removed using soap and water. We will accept no liability for any damage to clothing or property by face paints.

4.5. Temporary tattoos should not be applied to the face or the neck. They are removed gently using baby oil and may need several applications for complete removal.



5. FOOD

5.1. Only food and drink purchase onsite may be consumed in this venue (with the exception of baby food and formula).

5.2 Whilst our vegetarian options are suitable for vegetarians and we take every care to preserve the integrity of our vegetarian products, these products are handled in a multi-kitchen environment.

5.3. All food is prepared in an environment that it is not free from nuts, seeds, gluten or lactose and therefore buffet options may contain traces of these allergens.



6. CANCELLATION BY THE CUSTOMER

6.1. In the event of cancellation by the Organiser:

6.1.1. if you cancel less than 48 hours prior to the Party, you will not receive a refund of the Party cost.

6.1.2. if you cancel more than 48 hours prior to the Party and do not re-book for a new date, you will receive a refund of the Party cost less the non-refundable deposit.



7. CANCELLATION BY THE PUB

7.1. We may cancel the booking:

7.1.1. if the Wacky Warehouse or any part of the Pub premises is closed due to fire, dispute with employees, alteration, decoration or by order of any public authority;

7.1.2. if the Organiser fails to adhere to any of these terms and conditions.

7.2. In the event of cancellation by us under paragraph 7.1.1, or by us or the Organiser in accordance with our Pub Safe promise, we will refund any payment made. We will have no further liability to the Organiser.



8. CHANGING THE BOOKING

8.1. Changes can be made to a booking up to 48 hours prior to the Party, excluding changes related to pre-selected stock items. No changes can be made less than 48 hours prior to the Party. No refund will be given in respect of Attendees who do not attend the Party on less than 48 hours' notice.



9. PAYMENT AND CREDIT

9.1. A non-refundable deposit 20% of the total Party cost is required at the time of booking. All details must be confirmed (including any Attendees with special requirements such as dietary, allergy or mobility) and the remaining balance must be paid at least seven days prior to the Party.

9.2. If payment is to be made either by a credit or charge card this request must be made at the time of booking. The card must be produced by the card signatory prior to or at the Party.

9.3. Payment by cash must be made on receipt of the invoice.



10. LIABILITY AND INSURANCE

10.1. We will not be liable to Organisers or any Attendees for loss of or damage to property except where and to the extent that such loss or damage is caused directly and wholly by the negligence of the Wacky Warehouse or its employees or agents. All clothing and goods which the Organiser and any Attendees leave in the Pub will be left at their own risk.

10.2. The Pub is insured against public liability in the normal course. However, where the Pub's general manager judges that the degree of protection afforded by this policy is insufficient for the degree of risk the Pub undertakes when accepting a booking, he may seek agreement in writing from the Organiser to different terms limiting our liability.

10.3. The Organiser assumes responsibility for any and all damage caused by them or any of the Attendees attending their Party.

10.4. Should the Pub agree to the Organiser employing the services of any outside contractor, other than those arranged by the Pub, the Organiser shall indemnify us, and keep us indemnified, against any claims made against us resulting from an act or default by any such contractor, his staff or agents or caused by any equipment supplied by them or others. This indemnity is also to include cover under the Health & Safety at Work Act 1974. Any outside contractor, engaged by the Organiser, must report to the Pub manager and contractors must comply with appropriate legislation including the Fire Precautions Act. The Pub reserves the right to refuse access, without prejudice to any contractor.

10.5. Nothing in these terms and conditions shall limit liability for death or personal injury caused by our negligence but the Organiser agrees that consequential loss or damage is not a likely result of our failure to hold the Party.



11. CUSTOMER'S OBLIGATIONS

11.1. The Organiser shall:

11.1.1. ensure that children are supervised by a responsible adult at all times;

11.1.2. report any accidents or injuries to the Party host or another member of Pub staff immediately;

11.1.3. ensure that there is at least one adult for every five children;

11.1.4. inform the Party host or Pub manager if you want to take photographs of your Party to ensure that other guests are informed to protect their privacy. Ensure that you have permission from the parent or legal guardian of children to take their photograph during the Party;

11.1.5. ensure that children have permission from their parent or legal guardian to have their face painted or receive a temporary tattoo;

11.1.6. ensure that children with allergies avoid known allergens such as particular buffet foods, latex balloons etc..

11.1.7. ensure that Attendees do not commit any nuisance, disturbance or infringement and comply with all reasonable requests of Pub staff;

11.1.8. comply with all security, fire and other regulations relating to the Pub premises and not commit any illegal acts;

11.1.9. not carry out any electrical or other works, use their own electrical equipment, or fix anything to the floors, ceilings, walls or any other part of the premises without the prior consent of the Pub;

11.1.10. not bring any inflammable, noxious or dangerous items on the premises and remove any items promptly when requested by Pub staff;

11.1.11. not to bring or consume any food or beverages on the Pub premises with the exception of a birthday cake and those items supplied by the Pub;

11.1.12. not carry any betting, gaming or auction activity on the Pub premises;

11.1.13. not use the Pub's name or logo or Wacky Warehouse's name or logo on promotional or other literature or tickets except in such form as may be provided by the Pub;

11.1.14. if requested by the Pub supply a list of Attendees to reception, which may be required for security purposes; and

11.1.15. seek approval from the Pub prior to employing the services of any outside contractor to attend the Party. Contractors associated with Disney or Nickelodeon characters are not permitted.



12. DATA PROCESSING

12.1. Any processing of your personal data by us will be in accordance with our privacy notice available at www.wackywarehouse.co.uk/privacy



13. GOVERNING LAW AND THIRD PARTIES

13.1. These terms shall be governed by English law and dealt with exclusively, if necessary, by the English courts.