Win a Christmas treat with Wacky
We've partnered with our friends at The Entertainer to bring you an epic prize this Christmas. All you have to do is enter our competition below for your chance to win a £250 voucher ahead of Christmas!
What's on this Christmas?
There are so many magical reasons to join us this Christmas at Wacky Warehouse but here are just a few of them…
Please contact your local venue to find out about special events taking place.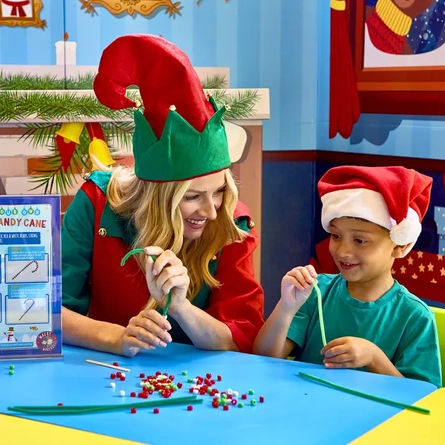 Download our Christmas crafts
Don't have the time to visit us in person? No problem! You can access all our seasonal crafts for download right here. Don't forget to share your little ones' best creations with us on Facebook!
SUMMARY TERMS AND CONDITIONS


Promotion open to UK residents only, aged 18+. To enter the competition entrants must visit the competition page at https://www.wackywarehouse.co.uk/christmas, answer the question correctly and submit their details to be entered into the prize draw. Promotion closes at 23:59 on Friday 8th December 2023. One winner will receive a £250 voucher for The Entertainer. Full terms and conditions are available at https://www.greeneking-pubs.co.uk/wacky-warehouse/terms-and-conditions/. Promoter: Greene King Brewing and Retailing Ltd, Sunrise House, Ninth Avenue, Burton upon Trent DE14 3JZ.

TERMS & CONDITIONS AND PRIVACY NOTICE

1. Acceptance. By entering this promotion, you are deemed to have accepted, and will be bound by, these terms and conditions.

2. Eligibility. This promotion is open to residents of the United Kingdom aged 18 or over only. Employees of Greene King, their families, agencies, or anyone else professionally connected with this promotion, are not eligible to enter.

3. Promotional Period. This promotion opens at 00:00 on Wednesday 8th November 2023 and closes at 23:59 on Friday 8th December 2023.

4. Entry requirements. To enter this competition entrants must visit the competition page at https://www.wackywarehouse.co.uk/christmas, answer the question correctly and submit their details to be entered into a prize draw. We reserve the right to disqualify any entries that we have reason to believe are bulk entry, third party or in any way considered fraudulent.

5. Winner selection. One winner will be selected at random from all correct entries received.

6. Prize. One winner will receive a £250 voucher to spend at The Entertainer. Extensions, alterations, and upgrades are subject to availability and at the winner's expense.

7. The terms and conditions of any third-party supplier will also apply to the prize where applicable. If there is a conflict between third-party terms and conditions and these terms and conditions, these shall take precedence.

8. The prizes are non-transferable and cannot be sold or auctioned. No cash or other alternative to the prize will be offered unless in the event of unforeseen circumstances, in which case we reserve the right to offer an alternative prize of equal or greater value than the original.

9. Notification. The winners will be informed of their prize within ten working days following the end of the promotion, unless otherwise specified.

10. Reasonable efforts will be made to contact the winners using the details on entry. However, if a response has not been received within 48 hours, or if the selected winner is ineligible, otherwise in breach of these terms and conditions, or unable to take up the prize for any other reason, we reserve the right to select an alternative winner using the same process referred to above in these terms and conditions.

11. We accept no responsibility for failed delivery due to the provision of incorrect contact details by you.

12. Delivery. The winners will receive their prize within 60 working days following the end of the promotion, unless otherwise specified. In any event the prize must be claimed and taken within six months of the closing date.

13. Limitation of liability. To the extent permitted by law, we accept no liability for any damage, loss or injury suffered (including loss of opportunity) whether direct, indirect, special or consequential, arising in any way due to entering this promotion or taking up a prize. We are not responsible for any third-party acts or omissions.

14. Intellectual property. You will retain ownership of any content, submissions and other material that you submit as part of this promotion. However, you grant us (and our agents and affiliates) a non-exclusive, royalty free, worldwide, irrevocable, perpetual licence to use any such content, submissions and other material for the purposes of this promotion.

15. Publicity. The winners may be asked to take part in publicity relating to this promotion, but this will be discussed with the winners before taking place.

16. Winner's name. In accordance with the Advertising Standards Authority CAP Code, we intend to make available the surname and county of any winner. Any winner that objects must notify us as soon as possible after you are informed that you have won.

17. General terms. No bulk, machine-generated consumer group or third-party entries will be accepted. Entries are restricted to one entry per person. In the event of multiple entries being received from the same person or account, only the first entry will be accepted.

18. We reserve the right to disqualify incomplete, altered or illegible entries. No responsibility will be accepted for entries lost, damaged or delayed, technical or telecommunications faults. Proof of submitting is not proof of receipt.

19. We reserve the right, in our absolute discretion, to verify the winners, including, but not limited to, proof of identity and/or age, as required, and to withdraw a prize where there are reasonable grounds to believe there has been a breach of these terms and conditions or otherwise where an entrant has gained advantage in participating in the promotion or has won using fraudulent means. 

20. Our decision is binding in all matters relating to this promotion, and no correspondence shall be entered into.

21. Owing to exceptional circumstances outside our reasonable control and only where circumstances make this unavoidable, we reserve the right to cancel or amend the promotion or these terms and conditions at any time, but will always endeavor to minimise the effect to you in order to avoid undue disappointment.

22. Governing law & jurisdiction. These terms and conditions (and any non-contractual disputes/claims which arise out of or in connection with them) will be governed by English law and we and you submit to the exclusive jurisdiction of the English courts.

23. We remind anyone entering this promotion to drink responsibly. Please visit www.greeneking.co.uk/enjoy-responsibly for the facts.

24. This promotion is in no way sponsored, endorsed, administered by or associated with Facebook. You are providing your information to us. By participating in this promotion, you agree to a complete release of Facebook from any claims.

25. This promotion is subject to Facebook's terms and conditions, which can be found at: https://www.facebook.com/legal/terms/update?ref=old_policy.

26. Promoter: Greene King Brewing and Retailing Limited Sunrise House, Ninth Avenue, Burton upon Trent, Staffordshire DE14 3JZ.

PRIVACY NOTICE

27. Data Controller. Greene King Brewing and Retailing Limited (ICO registration number ZA054235) is the data controller in respect of this promotion.

28. We are required to comply with the provisions of the Data Protection Act 2018 and the UK General Data Protection Regulation in relation to the processing of any personal information obtained from you, including when you take part in this promotion. We are a member of the Greene King group of companies (the "Group"), and the Group takes the protection of your personal information seriously.

29. Why do we need to process your personal data? We want our promotions to be administered fairly so that all entrants can enjoy them. To do this well, we need to process some of your personal data. We will process your personal data to administer the promotion, to confirm that you have complied with the terms of the promotion, to confirm whether you have won a prize, to communicate with you in relation to any prize you may win and to deal with any queries you have in relation to the promotion.

30. What information do we process? When you enter a promotion we need your contact information. If you are a winner we may ask for your date of birth in order to confirm your eligibility to enter the competition and other contact information so we are able to send your prize to you. We will also collect any personal information you include in your message.

31. How long do we keep personal information for? If you exercise your data protection rights, we will keep a record of your request and our response indefinitely, to be able to show that we responded properly and fairly to your request. Otherwise we will keep your data for the following time periods:

| Information relating to… | Is kept for… |
| --- | --- |
| Entering a promotion | 4 months following the closing date of a promotion |
| Enquiring about a promotion | 3 months following our reply to you |

32. Will we sell your personal data to anyone else? No. That's not something we do.

33. Who do we share personal data with and why? Any personal information collected may be shared with other companies in our Group and will be used for administrative or operational reasons connected with the promotion, including to communicate with you. We work with the following third-party suppliers and service providers who will process your personal data in order to administer the promotion, arrange prizes and discuss any specific requirements with you on our behalf:

| Third party | Personal data that is shared | Reasons for sharing personal data |
| --- | --- | --- |
| Elf Marketing Ltd | Name, address including post code, date of birth, telephone number, email address and competition answer. | To administer the promotion and contact and arrange prizes with competition winners. |
| Service Now | Name, contact information, address, booking information, complaint information | Managing guest queries and complaints |

34. All of these organisations are required to comply with our data processing standards and are bound by the terms of this privacy notice. They are not permitted to use your personal data for their own purposes.

35. We will share your personal data as required by law or where we are asked to do so by a public or regulatory authority.

36. As we develop our business, we might sell or buy group companies or other businesses. If we do so, this might involve transferring customer information relating to the relevant company or business to the person buying the business. The buyer will only be permitted to use your personal data as outlined in this privacy notice.

37. We will not pass your personal information outside of the UK or EU or to any other external organisation without your prior permission.

38. Direct marketing. We may ask whether you want to receive marketing from us – it's your choice, but if you sign up for marketing please read our general privacy notice at www.greeneking.co.uk/privacy.

39. Publicity. If you are a winner or runner up, we may use your data for publicity purposes as explained in the terms and conditions above.

40. What are your rights and how can you exercise them? We can be contacted by post at: Westgate Brewery, Bury St Edmunds, Suffolk IP33 1QT.

41. We have appointed a Data Protection Officer, who can be contacted by post at the address above, or by email sent to dataprotection@greeneking.co.uk.

42. We process personal data in compliance with applicable data protection law. The lawful bases we rely on for our primary processing purposes are as follows:

| Processing purpose | Lawful basis for processing |
| --- | --- |
| Administering a promotion | We process personal data because it is necessary to do so for the performance of the relevant contract. |
| Responding to an enquiry about a promotion | We believe it is in our commercial interests to respond to our customers making this processing a legitimate interest. |

43. You have the following rights under data protection law:

a. to ask us to tell you what personal data we are processing that relate to you (right of access);

b. to require us to rectify or stop processing inaccurate personal data (right to rectification);

c. to require us to delete personal data relating to you, subject to there being valid grounds (right to erasure);

d. to require us to restrict our processing activities, subject to there being valid grounds (right to restriction);

e. to object to processing, in particular to profiling (right to object) and direct marketing (by withdrawing your consent);

f. to ask that personal data about you be sent to another controller of your choosing, subject to there being valid grounds (right to data portability).

44. You can notify us of your wish to exercise any of these rights by contacting the Data Protection Officer, using the contact information provided above.

45. You also have a right to lodge a complaint with the Information Commissioner's Office (the data protection regulator for the United Kingdom) or in some circumstances, another European Union data protection authority.

46. Cookies. We may download cookies to your computer when you log on to our website. For more information about our commitment to your privacy and details of how we use cookies, please refer to our general Privacy Notice and Cookie Notice at greeneking.co.uk/privacy and greeneking.co.uk/use-of-cookies.

47. Changes to this privacy notice. This privacy notice is effective from the opening date set out above. You can check if the privacy notice has changed by revisiting this webpage at any time.